Studying Global Vacuum Layer Market Report Improves Business Decision Making. The global vacuum deposition system marketplace provides a wide range of opportunities for global manufacturers, service providers and users of the products. This report provides comprehensive and relevant information on the key players in the major global market share in terms of revenue, sales, supply, demand and quality of the vacuum coatings field products and services. The main market leaders are:
Applied Materials, Buhler, Oerlikon, Von Ardenne, Shincron, ULVAC, KDF, Denton Vacuum, Veeco Instruments, IHI, CVD Equipment Corporation, BOBST, Mustang Vacuum Systems, Semicore.
In the coming years, there is a growing demand for vacuum layer systems in North America and Europe. The costs of industrial squares, fierce competition, the introduction of new products, the rising costs of public industry, the retrofitting and modernization of old technologies, the increasing acceptance of vacuum layer systems in developing countries will drive the growth of the global market. Because of the high technology level of vacuum deposition systems technology, the global market for these systems is concentrated and some companies, such as Applied Materials, ULVAC, Buhler Leybold Optics, are well-known for their strong systems and service performance. At the same time, Japan accounted for 25.73% of the market in 2017, a significant share of the global vacuum coatings system market. The level of demand for vacuum systems depends on the downstream industries and the global economy. Since the global economic situation will always be uncertain in the coming years, it may not keep pace with the growth of the vacuum systems industry. However, with the increasing number of end-users in the market, the vacuum layer systems market is expected to be very promising in the near future. In addition, technological advances are likely to fuel the market in the coming years. The growing need for highly sophisticated surface-related properties, such as high flexibility, magnetic, optical, electronic and catalytic properties, also contributes to market growth through advanced mono-structure layer coatings.
In 2018, the vacuum coating systems market is estimated to be $ 3440 million and is projected to reach $ 4470 million by 2025, a 3.3 percent increase between 2019 and 2025. Each segment of the market provides in-depth information on aspects it offers a qualitative and quantitative market. By type, the vacuum coatings market is divided into two categories: chemical vapor deposition (CVD) and physical vapor deposition (PVD). Major applications include automotive, electronics, packaging, optics, glass and more. The global Physical Vapor Deposition (PVD) market share in the US in 2017 was valued at approximately $ 16.85 billion and is projected to grow at a rate of 6.1% from 2018 to 2025.
PVD is an excellent vacuum coating process for the improvement of wear and corrosion resistance. It is highly required for functional applications, such as tools, decorative pieces, optical enhancement, moulds, dies, and blades.
 The PVD market is primarily driven by the increasing demand for reliable and durable coatings on medical equipment, especially in developing countries. Therefore, the Physical Vapor Deposition (PVD) market in the medical device applications sector is expected to have strong growth potential. The following figure shows the market size of various vacuum coating applications in the US between the 2014 and 2015.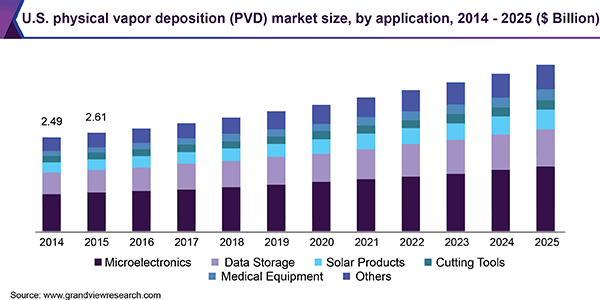 Applications of physical vapor deposition (PVD) include microelectronics, data storage, solar cells, cutting tools and medical equipment. Medical equipment is expected to expand at a 7.4% growth rate from 2018 to 2025. Increased government spending on basic health care is expected to increase demand for medical devices and subsequently drive the global vacuum coating systems market.
Microelectronics account for the largest share of applications for vacuum coating systems in 2017 and is expected to witness moderate growth over the forecast period. The presence of materials that require little coating process is the main reason for this sector's slow growth.
Solar cells with a growth rate of 7.1% will be the second most used vacuum coating systems between 2018 and 2025. This sector is expected to be particularly important, especially in Asia-Pacific and Europe, as photovoltaic cell manufacturers increase investment in research and development to maintain low cost.
The bellow circular diagram shows the contribution of different sections related to the vacuum coating field including PVD Equipment, PVD Materials, and PVD Services.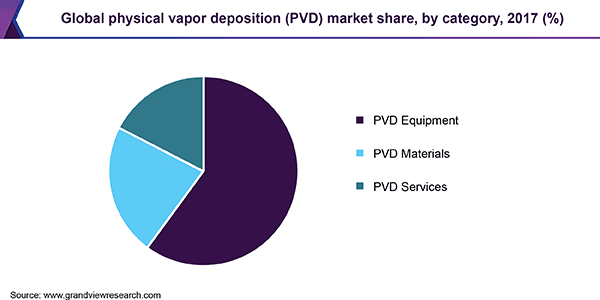 The materials commonly used for coating various samples or used in the process of coating by vacuum coating systems include titanium, aluminum, chromium and nitrogen.
PVD services include a combination of technologies, such as vacuum, evaporation, and sputtering systems, to produce high-quality, affordable, and cost-effective coatings. As you can see in the figure, in 2017 PVD equipment has attracted the most interest, accounting for 59.9% of the global market for physical vacuum layer (PVD) systems and services. The sector is expected to have a significant market share in the coming years.
sia-Pacific market expected to grow significantly due to increased demand for small-scale solar cell storage applications. Demand in India, China and Japan is likely to increase over the next two years due to inadequate power infrastructure.
The European market is expected to show significant growth in the coming years due to increased demand in applications that use metal thin films on products to extend the lifespan of finished products. North America is the market leader and is expected to record the highest growth rate of 5.7% between 2018 and 2025. This growth will be due to adequate regulatory support to encourage private investment at the domestic level in the semiconductor industry. The Middle East Region (MEA) is also likely to make significant progress in the coming years.
Key companies in the global market include Advanced Energy Industries, Inc.; AJA International, Inc.; Veeco Instruments, Inc.; Angstrom Engineering, Inc.; and Applied Materials, Inc, which hold about 70% of market share, are working to increase their market share with profitability through increased product innovation. Advanced Energy, for example, introduced AEG Power Solutions in January 2014, which helped the company expand its market position in power-based products. In May 2015, the company introduced the Applied Endura Cirrus HTX PVD for the production of titanium nitride hard masks thin-film used in the production of 10 nm and 7 nm chips.
Several other companies in the market include Oerlikon Balzers Hartec GmbH; Denton Vacuum, Inc.; IHI Hauzer Techno Coating B.V.; Impact Coatings AB; Johnsen Ultravac, Inc.; Kurt J. Lesker Co.; Plasma Quest Ltd.; Platit AG; Richter Precision, Inc.; Sulzer Metplas GmbH; and Tokyo Electron Ltd.
Low cost of coating process and uniform distribution of vacuum coating system is benefits attracting various industries towards acquiring these machines. Popularity of handheld devices and stringent regulations against toxic chemicals prioritizing the safety of workers are factors expected to drive market growth over the forecast period. Increasing demand from end-use industries can act as a catalyst for the market. Emergence of the solar equipment sector and inclination of various nations towards reducing their carbon emission output can create growth opportunities for the market. But lack of skilled personnel can impede market growth.
See the links below for more information.
https://www.grandviewresearch.com/industry-analysis/physical-vapor-deposition-pvd-market
https://www.marketresearchfuture.com/reports/vacuum-coating-machines-market-6330
https://www.researchgate.net/publication/328948644_Sputtering_Physical_Vapour_Deposition_PVD_Coatings_A_Critical_Review_on_Process_Improvement_and_Market_Trend_Demands