The DST3-T, Triple Target Turbo Pumped Sputter Coater, is a multi vacuum coater system that combines thermal evaporator and sputter coater in one single compact desktop system. The high vacuum system is suitable for deposition of a wide range of materials. Triple magnetron target desk sputter coater can easily switch between Evaporation and Sputtering condition (Not Simultaneously).
The DST3-T, Magnetron Desk Sputter Coater, is equipped with a large chamber (300 mm diameter) and three 2" diameter water-cooled cathodes which make it suitable for long time deposition. The magnetron desk sputter coater is equipped with RF and DC power supplies. It can sputter semiconductors, dielectrics and metal (oxidizing & noble) targets.
The sputter coater system is equipped with an auto adjustable matching box, minimizing the reflected power in the RF sputtering process. For increasing film adhesion to the substrate and to improve the film structures, a 300 V, DC bias voltage can be applied to the substrate (optional).
According to state of the cathodes, DST3-T is available in two models:
DST3 – TA (Angled Cathodes):
The DST3-TA is equipped with three angled cathodes with a common focal point. The sputter coater system can sputter from two or three (optional) targets simultaneously or independently to form alloys or multilayer deposition respectively. The maximum size of substrates in this model could be 3 inches.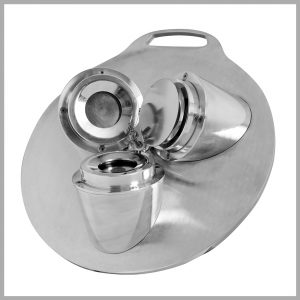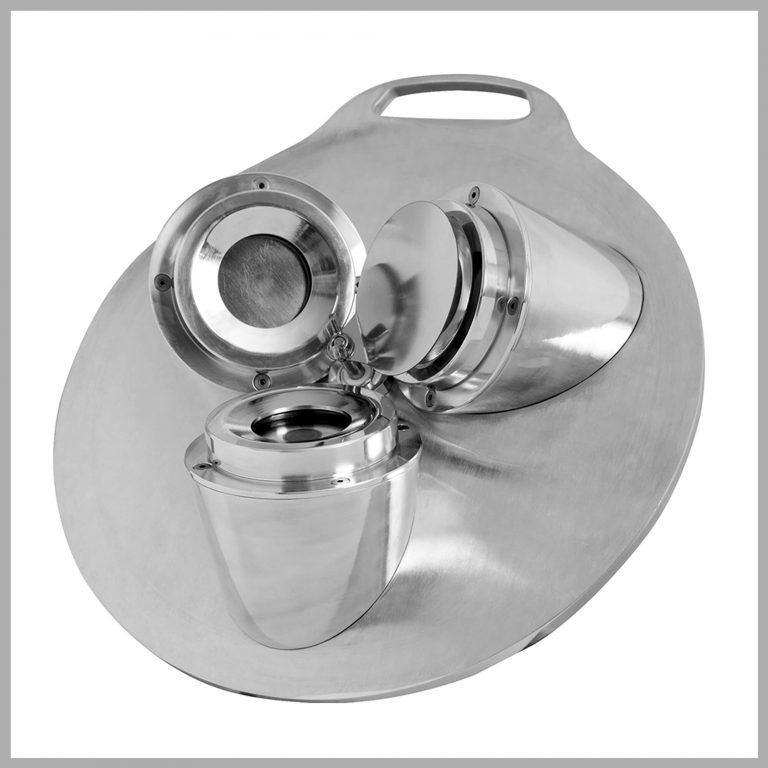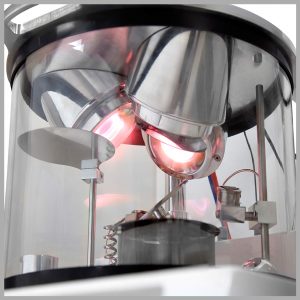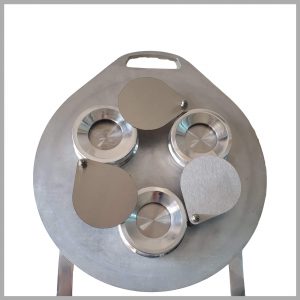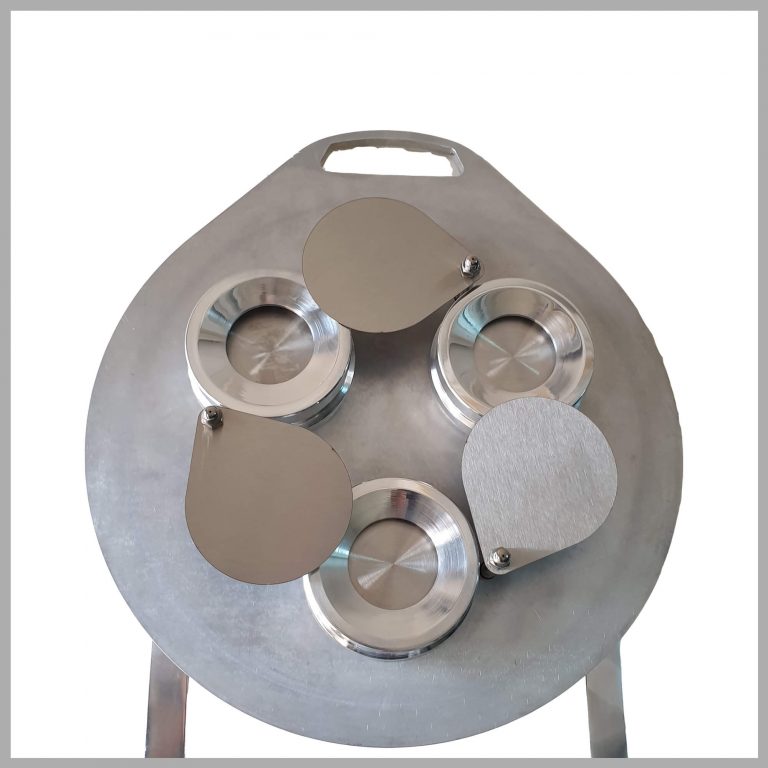 DST3 –TS (Straight Cathodes):
DST3-TS with three straight 2 inches water-cooled cathodes is suitable for sputtering a single large specimen with diameter up to 20 cm or several small specimens. 
Features of Desk Sputter Coater
Sputtering and Thermal Evaporation process in a compact system

Equipped with DC and RF power supplies suitable for metals, semiconductors and dielectrics

Three 2" water-cooled angled, magnetron cathodes suitable for producing alloy films (DST3-TA) and multilayer deposition

One thermal source installation

Two fixed and movable quartz crystal monitoring system for real time thickness measurement (1 nm precision)

Two MFCs

Manual or automatic Timed or Thickness deposition

Intuitive touch screen to control coating process and rapid data input

User friendly software that can be updated via network

Equipped with 3 manual shutters

Vac coat Products are covered worldwide by both public and product Liability Insurance in case any property damage or personal injury happens caused by the Vac Coat systems.
Tillable and change height of rotary sample holder with ability to selection of the cathodes

500 °C substrate heater (optional)

300 V DC substrate bias voltages (optional)

Unlimited deposition time without breaking vacuum

Two-year warranty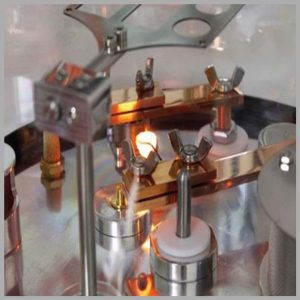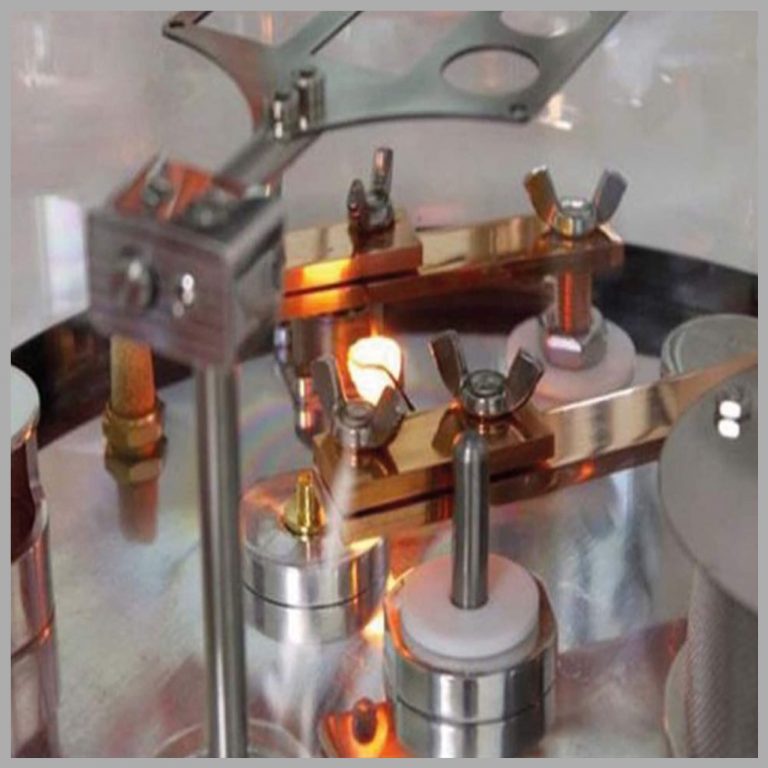 Thermal Evaporation of Triple Target Turbo Pumped Sputter Coater
The DST3-T is equipped with a high current power supply and low-voltage (resistive) thermal evaporation platform suitable for a wide variety of thermal evaporation applications. The sputter coating system allows controlled thermal evaporation of wide range materials onto substrate. Different types of thermal evaporation sources (Boat, Basket, and Coil) can be installed on the single thermal source holder.
Touch Screen Control
Triple Target Turbomolecular Pumped Sputter Coater is equipped with a 7" colored touch screen and semi-automatic control and data input that can be operated by even inexperienced users. The vacuum and deposition information can be observed as digital data or curves on the touch screen. Information of the last 300 coating can also be saved in the history page.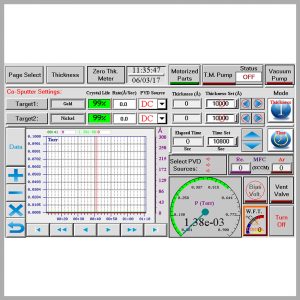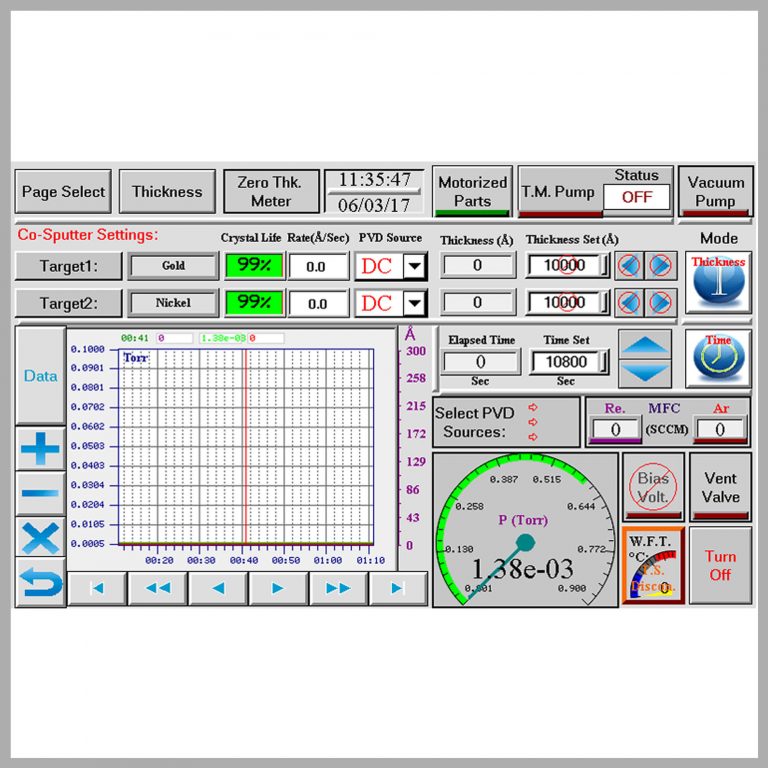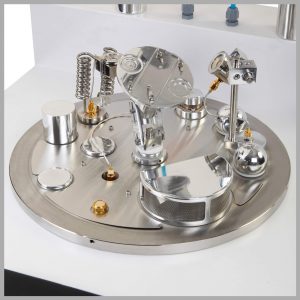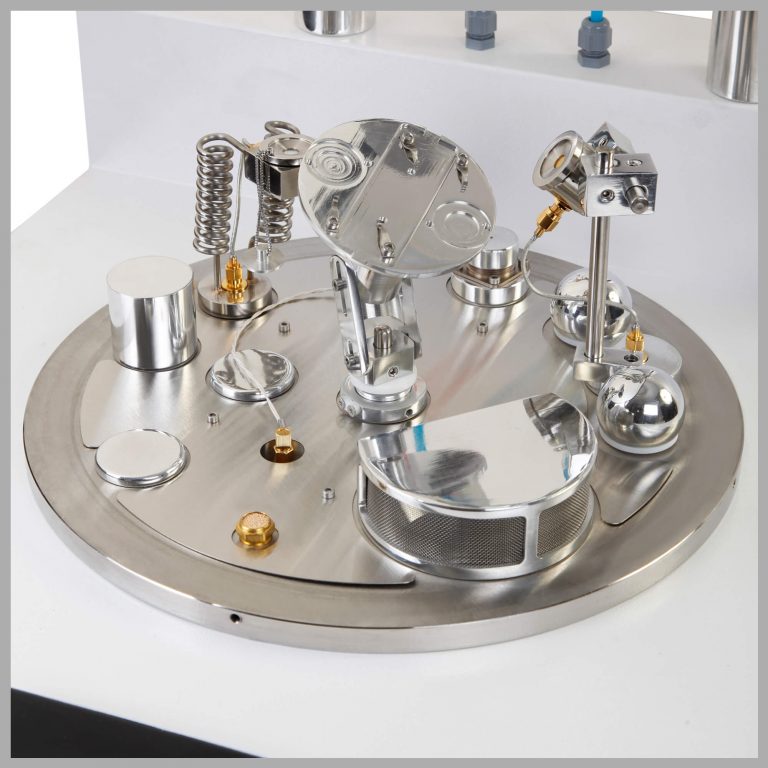 Sputter Coater Sample Holder
The holder is made according to the conventional size of microscope slides, but the user can order customize size according to his/her needs. On the sample holder number of clamps are created to hold the small samples with a simple method during the rotation.
Plasma Cleaner
The triple target sputter coater – DST3-T is equipped to plasma cleaner option. Vacuum Plasma Cleaning is the process of removing organic matter from the surface of substrate through the use of an ionized gas called plasma. Pre-Cleaning the substrate prior to the deposition of film to eliminate contamination (C-based, Oxides) from substrate surface improve the adhesion between the substrate and the subsequent layers.
Clean Vacuum of Sputter Coater
The vacuum chamber of Sputter Coater – DST3-T is Cylindrical Pyrex with 300 mm OD and 200 mm H. The DST3-T is fitted with an internally mounted 90 l/s Turbomolecular Pump, backed by a 1.4 m3/h diaphragm or 4 m3/h two-stage Rotary Vane Pump.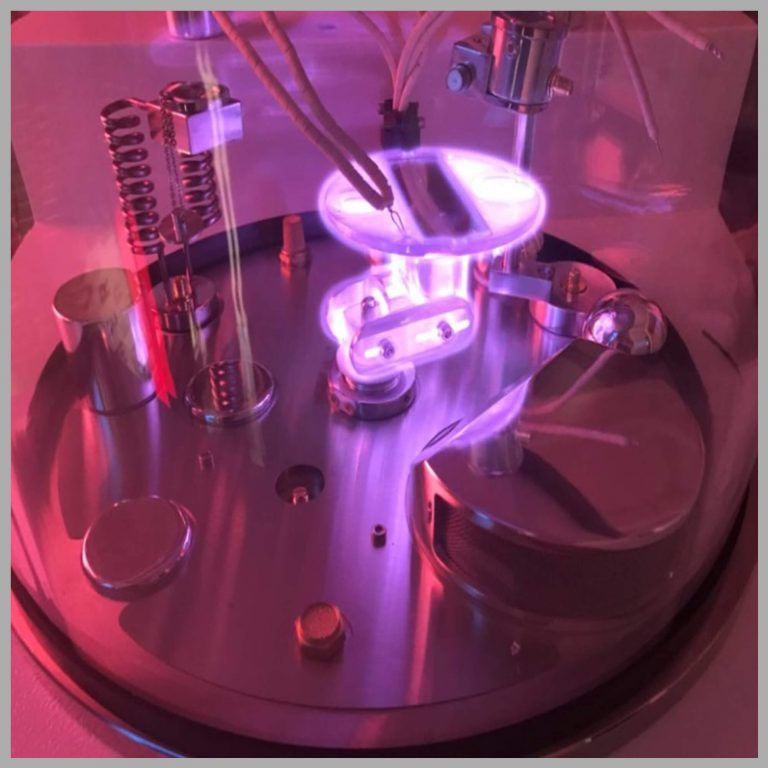 Sputter Coater –

DST3-T

Specifications
| | | |
| --- | --- | --- |
| Pumping Speed | 90 l/s | 350 l/s |
| Ultimate Pressure | 7×10-6  Torr | 7×10-7 Torr |
Two-stage rotary vane pump 4 m3/h

Independent sputtering control rate for each cathode to produce fine grain structures

Automatic control of deposition power independent of pressure

Automatic control of the cathode's temperatures to protect the life time of the magnets

Water-cooled high current electric feedthrough
Two precision Mass Flow Controller (MFC) for fine control of Ar flow and so reactive sputtering gas
Records and plots of coating parameters graphs
Transfers curves and deposition process data by a USB port to PC
300V DC bias voltage (optional)
Equipped to plasma cleaner (optional)

Equipped to 500˚C substrate heater (optional)

DC power supply 0-1200V, 0-500 mA

0-24 V, 0-100 A high current power supply




300 W RF power supply with automatic matching box

Utilities: 220V-240V, 50/60HZ, 16A

Box Dimensions: 50 cm H x 60 cm W x 47 cm D

Shipping Weight: 160 kg (Pump, Rack, and Box)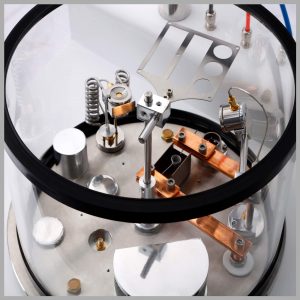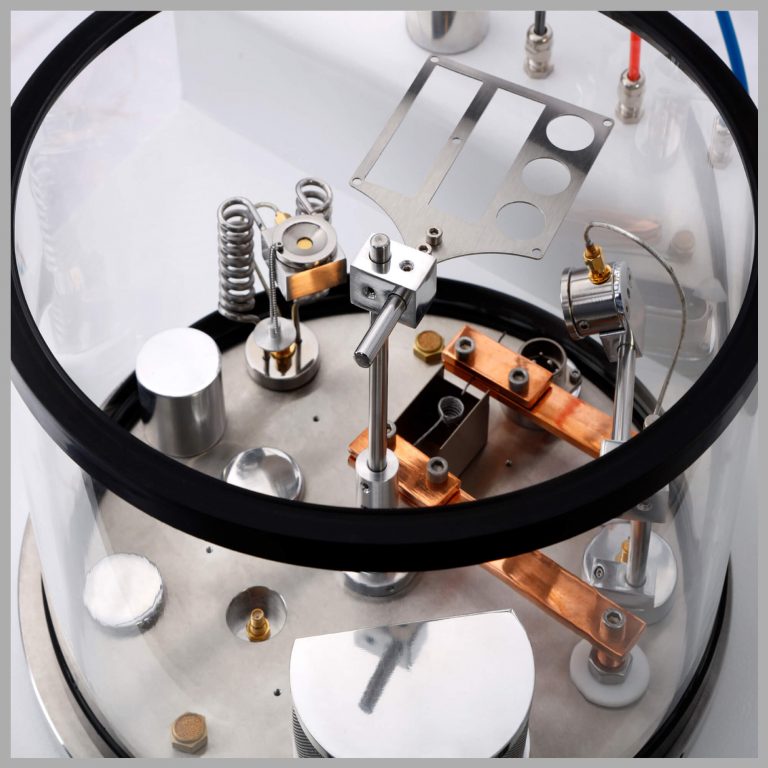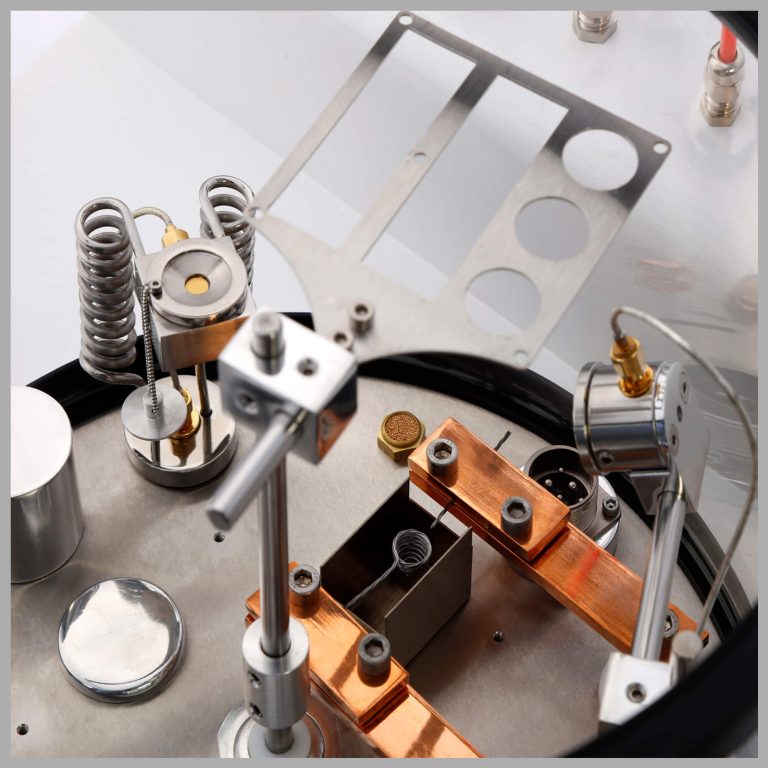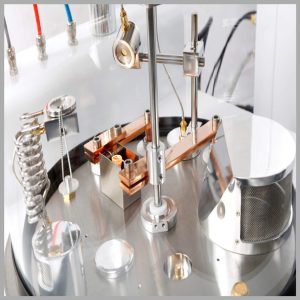 Sputter Coater Applications
Metal, Semiconductor, and Dielectric Films

Nano & Microelectronic

Optical components coating

Thin film

sensors

Magnetic thin film devices

Computer memory applications

Fine grain structural deposition for SEM  &  FE-SEM sample preparation
Options and Accessories
The Triple Target Turbomolecular Pumped Sputter Coater – DST3-T has the following options and accessories:
Quartz crystal sensors

Spare vacuum glass chamber

Thermal source materials

300V DC bias voltage

Plasma cleaner

500˚C substrate heater