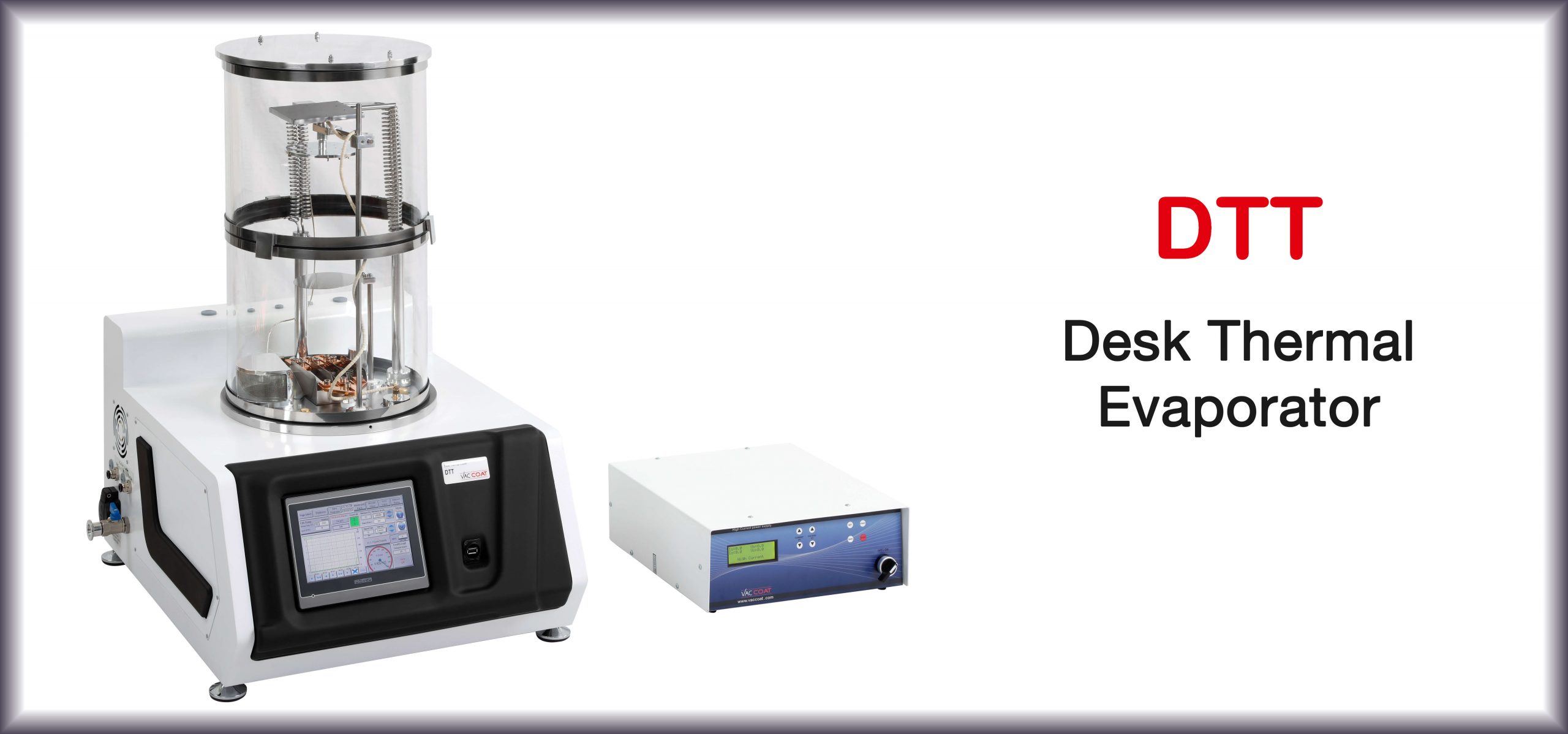 This vacuum evaporator with its suitable dimensions is capable of reaching the desired pressure in a short time and coating process can take place within a few minutes. It is suitable for research, laboratory and electron microscopy applications.
Features
| | | |
| --- | --- | --- |
| Pumping Speed | 90 l/s | 350 l/s |
| Ultimate Pressure | 7 x10-6  Torr | 7 x10-7  Torr |
Two stage

rotary vane backing pump

, 4m3/h
Evaporation source (boat/basket/coil) selection for multilayer thin film deposition

Co–evaporation

to form alloy films (optional)
Quartz crystal monitoring system for real time thickness measurement (1 nm precision)

Manual or automatic Timed or Thickness deposition

Intuitive touch screen to control the coating process and rapid data input

User friendly software that can be updated via network

Equipped with electronic shutter

Equipped with rotary sample holder (optional)

2 inches, 500 °C substrate heater (optional)

Two-year warranty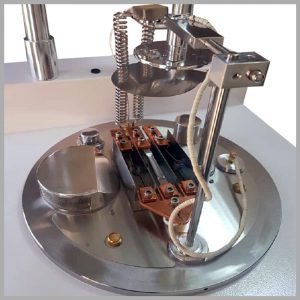 Applications
Metal & dielectric Films

Fabrication of thin film sensors

Nano &

Microelectronic
Touch screen control with colorful display
The desk thermal evaporator is equipped with a 7" colored touch screen with full automatic control and data input that can be operated by even inexperienced users. The vacuum and deposition information can be observed as digital data or curves on the touchscreen. Information of the last 300 coatings can also be saved in the history page.
Thermal Evaporation Sources (boat/basket/coil)
The desk thermal evaporator can be fitted with three independent heat resistance thermal evaporation sources. The good design of the evaporation source holder causes no contamination from source materials on each other. The length of the source holders can be adjusted in the range of 5cm~9cm.
Specifications
Multi boats, baskets and coils installation

Records and plots coating parameters graphs

Transfers the curves and deposition process data by USB port to PC

Automatic control of the power of coating independent of pressure

0-100 high current, protected against short circuit, DC power supply

Utilities: 220V-240V, 50/60 HZ, 16A

Dimensions: 60 Cm H × 65 Cm W × 50 Cm D

Shipping weight: ~ 60 kg
Options and Accessories
The DTT has the following options and accessories:
High current power supply for co-evaporation

Quartz crystal sensors

Spare glass chamber

Evaporation sources (boat/basket/coil)

2 inches, 500 °C substrate heater

Sample rotation

MFC

Sealing gaskets
Clean Vacuum
The vacuum chamber is a heat resistance, Cylindrical Pyrex with 300 mm OD and 200 mm H. The system is fitted with an internally mounted 90 L/s turbomolecular pump, backed by a two-stage rotary pump which introduces clean vacuum without oil contamination that is normally present with an ordinary diffusion pump.